TT-8 Dækreparation
TIRE REPAIR SYSTEM
Adapts to any shape of hole or cut.
Repairs up to 6 mm on tread and shoulders.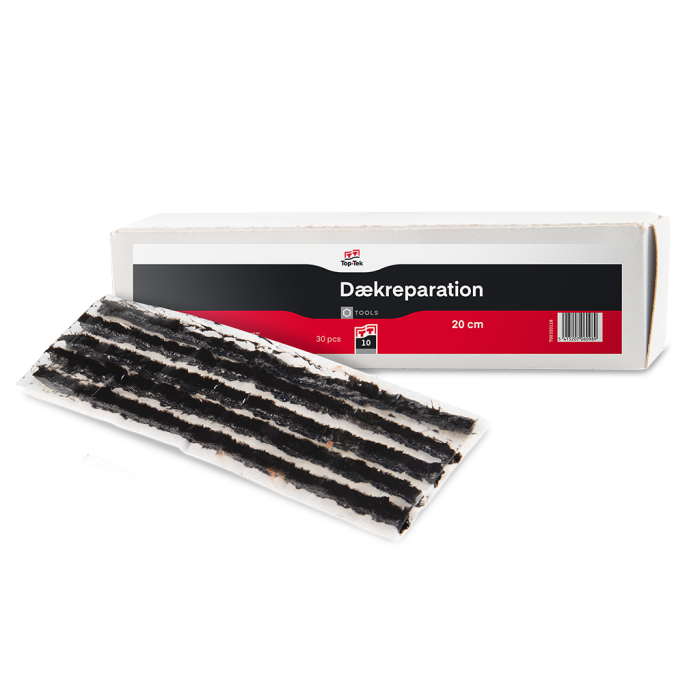 Product description
The ideal solution for damaged steel belted tires. Each cord is composed of several cords, soaked in a mixture of natural and synthetic rubbers for long-lasting resistance.
Specifications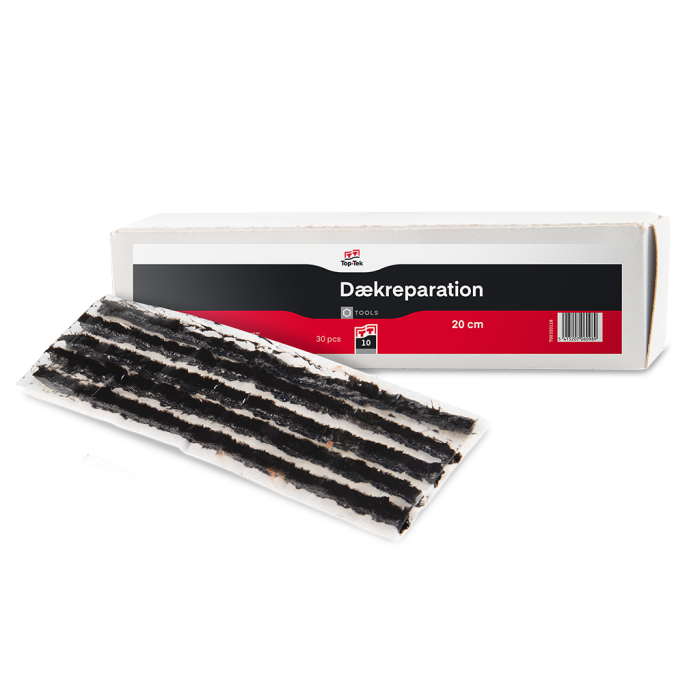 TT-8 Dækreparation
TIRE REPAIR SYSTEM
Base: braided synthetic cord in a mixture of natural and synthetic rubbers.
Colour black.
Shelf life: 2 years, in closed packaging, between +15°C and +330°C, stored dry and out of sunlight.
Technical information
Technical data sheet
Available packages & colors
700310118 - TT-8 Dækreparation 10cm (60pcs)
700320118 - TT-8 Dækreparation 20cm (30pcs)
Instructions
Determine the exact spot of the damage. Remove the damaging item and pay attention to the angle in which the item has penetrated the tyre. If this angle is difficult to determine, just insert the needle into the hole to find out the angle.
Insert the rope in the eye of the needle until the cord is in the middle of the needle.
Insert the cord in the hole. Apply a constant pressure until the handle of the needle - carrier reaches the tyre. Attention: if you need to fix a small hole, it is recommended to insert the needle first to clear the hole.
Pull the needle handle out straightly. Cut off the excess material. Inflate the tyre to the right tension. The tyre is ready for use. Please check at around 200 km after the repair.
Advice:
Remove the tire from the rim to determine the damage.
Clean the inside of the tire to at least 5 cm around the damage, around the inserted string.
Mount the tire back on the rim.