TT-1013 Fælgrens
HIGHLY ACTIVE, POWERFUL RIM CLEANER
Cleans efficiently and is selfneutralising.
No more scrubbing.
Fully soluble in water.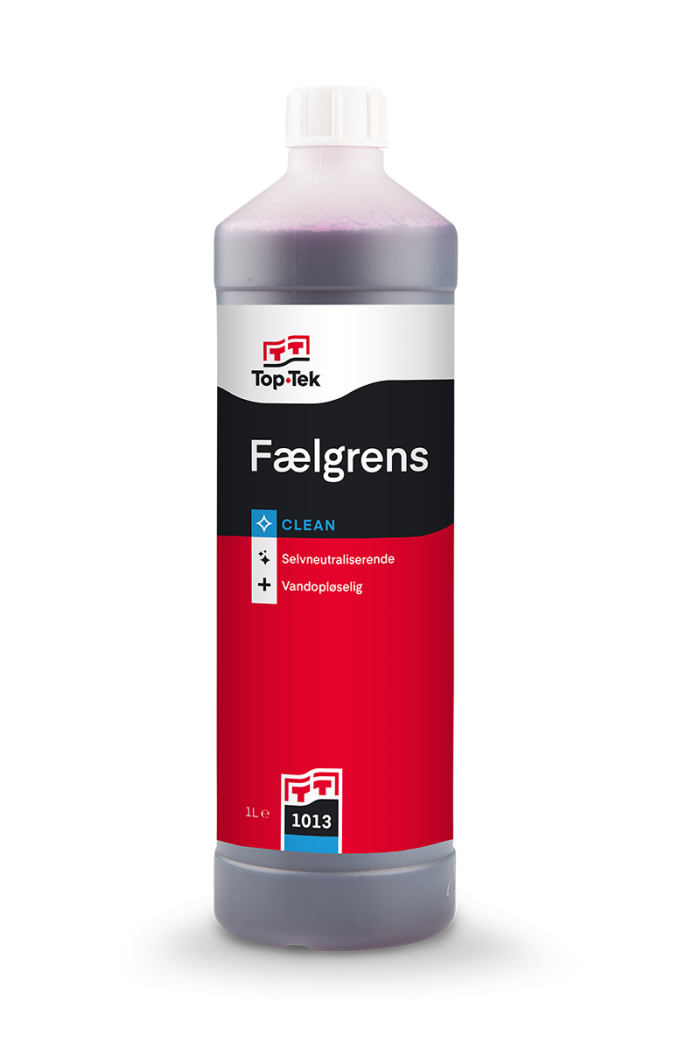 Product description
A professional cleaner for steel and light metal rims, fast and effective at removing brake fluid, oil, fat, tar, ... .
Contains a purple colour indicator which fades away when the action is complete and the acids are neutralised.
Can if necessary be neutralised faster with water.
Specifications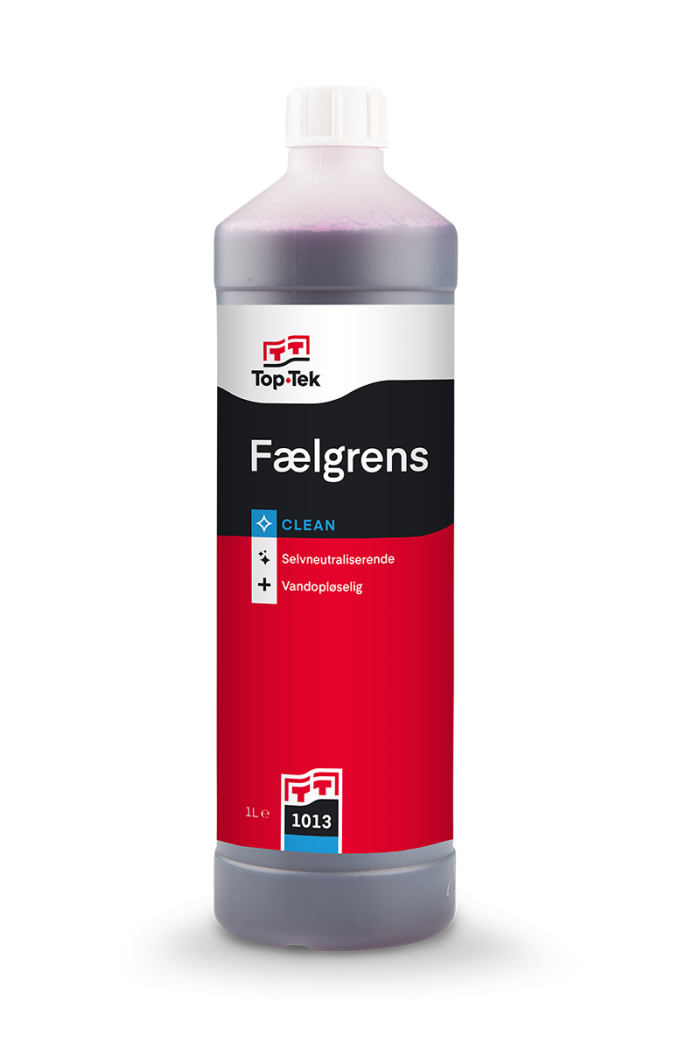 TT-1013 Fælgrens
HIGHLY ACTIVE, POWERFUL RIM CLEANER
Composition: e.g. combination of light sulphur and phosphorus acid.
Appearance: liquid.
Odour: sharp.
Colour: purple.
Viscosity mPa.s / 20°C: 1.
Relative density / 20°C: 1.071.
pH: 0.7.
Self ignition: +310°C.
Water solubility: fully soluble.
Vapour tension / 20°C hPa: 23.
Boiling point / boiling curve °C: 100 - 290.
Melting point °C: 0.
Consumption: car rim 5 to 10 ml - truck rim 15 to 40 ml.
Shelf life: 36 months, keep dry, cool and frostproof.
Safety measures: consult the Safety Data Sheet.
Application
Fast effective removal of brake fluid, oil, grease, tar and contaminations of various types from both steel and light metal rims.
Technical information
Technical data sheet
Available packages & colors
494001118 - TT-1013 Fælgrens - can 1L
494005118 - TT-1013 Fælgrens - can 5L
Instructions
Cover the rim from a distance of 20 cm.
Let it take effect for a few minutes, maximum 15 minutes. The purple colour indicator will fade slowly.
If necessary, rub with a soft brush.
Rinse carefully with high pressure water.
Do not let Fælgrens dry on the surface being cleaned. Do not use on very hot surfaces or on polished rims. Fælgrens can have an irritating effect on a damaged layer of paint. Test in advance on stainless steels and unpainted aluminium surfaces.