TT-1009 Novakleen pH13
LIQUID CLEANER FOR NATURAL POLLUTION
For cleaning and degreasing of all water-resistant surfaces.
Non-corrosive, non-flammable and biodegradable.
Fresh odour.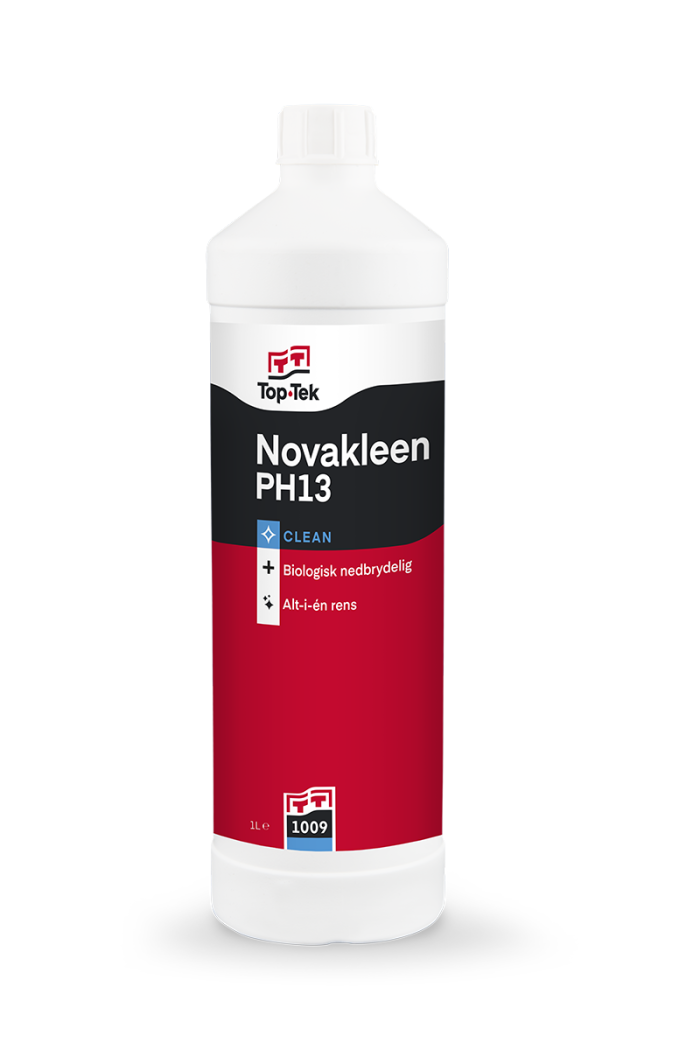 Product description
Novakleen pH13 is a powerful blend of water-soluble solvents, penetrating agents, wetting agents and synthetic detergents with the ability to attack the molecular structure of soils, greasy deposits, gummy residues and imbedded grease stains without damaging the surface itself. Soils are then detached by capillary action and emulsified for complete removal by mopping or rinsing. Novakleen pH13 is biodegradable and does not contribute to water pollution. Novakleen pH13 is non-flammable and non-toxic to humans or pets. Novakleen pH13 contains a powerful corrosion inhibitor to reduce the hazard of corrosion to steel surfaces which are subject to rusting with most water-based cleaners.
Specifications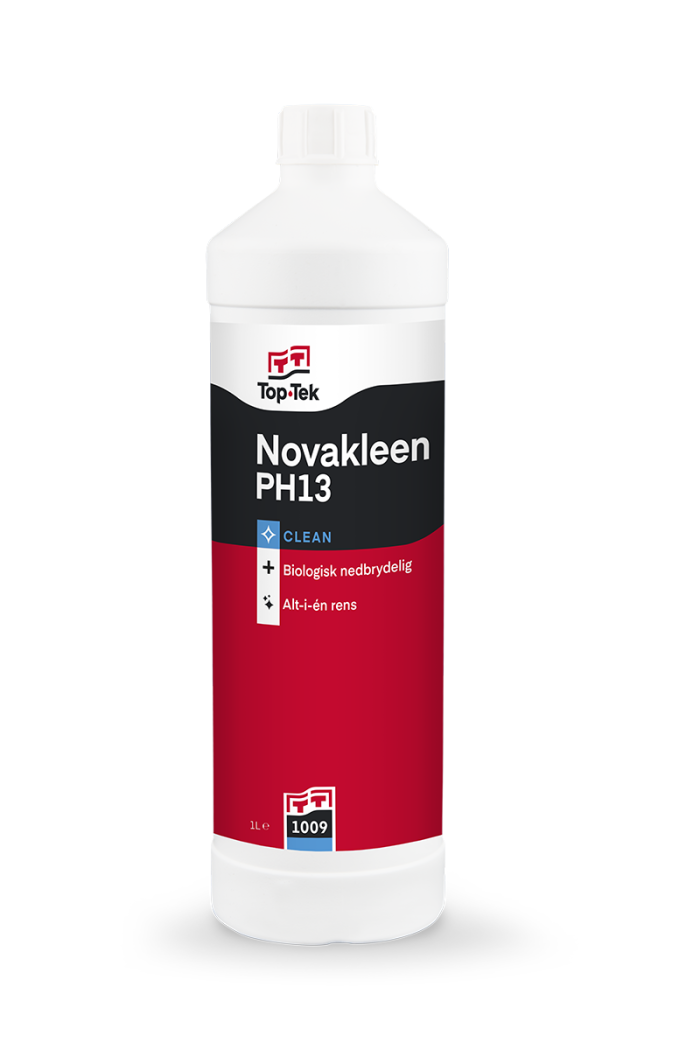 TT-1009 Novakleen pH13
LIQUID CLEANER FOR NATURAL POLLUTION
Composition: a stabilized blend of biodegradable surfactants and penetrants with oxygenated solvents and modified alkalies with no free caustics.
Flammability: non-flammable.
Odour: fresh.
Colour: transparent amber.
pH: 12,7.
Vapour pressure at 20°C (hPa): 43.
Toxicity: non-toxic when used properly - do not take internally.
Meets the AOX norm: free of Absorbable Organic Halogens.
Shelf life: 24 months, keep dry, cool and frost-proof.
Safety measures: consult the Safety Data Sheet.
Application
Novakleen pH13 can be used on all kinds of surfaces: synthetic materials, textiles, carpet, vinyl, canvas, formica, paint, metal, wood, chrome, aluminium, stone, concrete, tiles, polyester, plexiglass, rubber.
For the removal of most sorts of dirt: natural greases and oils, nicotine, diesel deposits, insects, adhering dust, shoe polish, pencil marks, …
Technical information
Technical data sheet
Available packages & colors
490010118 - TT-1009 Novakleen pH13 - bottle 1L
490025118 - TT-1009 Novakleen pH13 - drum 25L
Instructions
Spray in an upward motion and let it work its magic (+/- 2 min).
If necessary, brush the dirt out of the pores with a hard brush.
Remove the dirt from bottom to top with a clean cloth.
Rinse with clean water.
When used on fabric, upholstery and carpet, always treat the whole surface, then dab it with a clean cloth and vacuum it. Test the material for colourfastness on an inconspicuous area.
If it comes into contact with glass, always rinse thoroughly and immediately wipe off! When Novakleen pH9 dries on glass, it causes permanent stains.
Biodegradable according to EN 648/2004.